Introducing...Gambo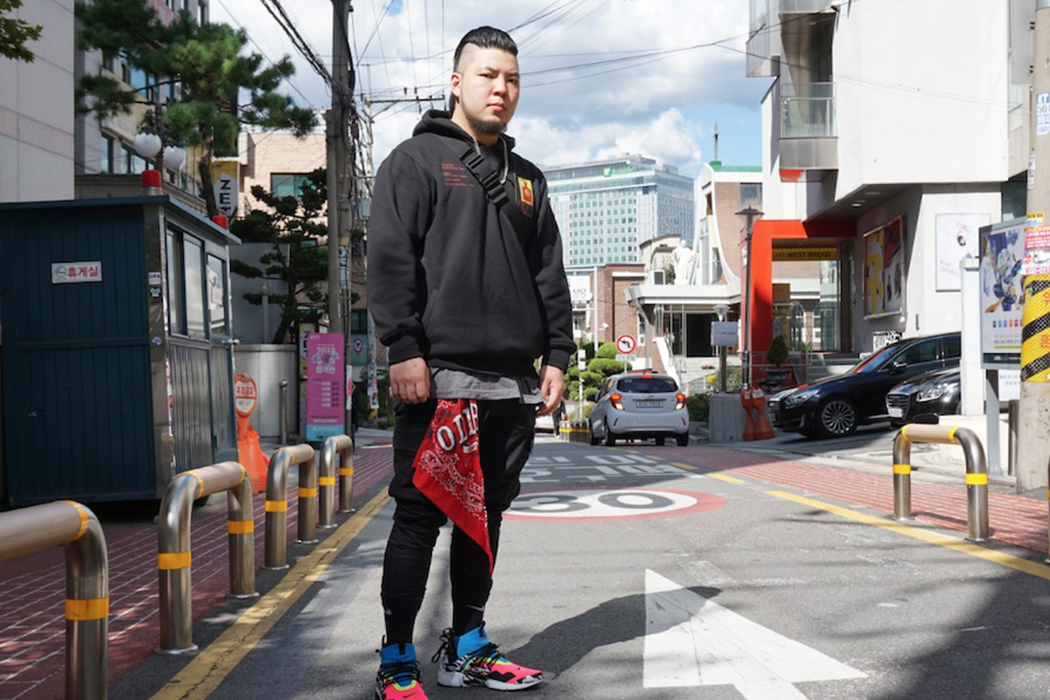 The PSEUDO Network is compiled of brilliant, inspiring, unique individuals across the globe. It's our pleasure to introduce some of them to you, and share their opinions on brands, marketing and life in 2019 and beyond.
BW: Brandon Walsh-Alexander
GP박: Gambo Park 박감보
BWA- Let's get started! Can you tell us a bit about who you are?
GP- My name is Gambo, I was born in 1994 which makes me 24 in normal age and 26 in Korean age. [For readers who are unfamiliar with Korean age- you are one years old at birth and turn two years old at the start of the new year] I work in entertainment management in Seoul [South Korea] and I'd describe myself as just a normal guy with a love of streetwear, I can say that after working with Pseudo my passion has turned to knowledge.
BWA- Great! Nice to have you with us. Do you reckon' there's anything brands just don't get when marketing to your age group?
GP- Well there are so many influencers showing off the products but they don't have information about what they are- just based on Instagram photos alone it is hard to identify the brand and size. For me as a Korean there are too many online stores and it is hard to identify if the items I'm looking at are fake or legit. Also they should know who they are targeting, and what kind of style they are selling, it is very hard to identify what they are selling and too many similar style brands in the streetwear scene.
BWA- Are there any cliches that you wish brands would stop giving life to?
GP- For me it depends, because the stereotype itself is a hard thing to get but it is easy to lose, it depends. To support my answer, for example Supreme, why do people buy Supreme? I think it's because of the hype, lots of influencers and celebrities wear it, so that people want to buy it. That's why supreme is one of the biggest hype brands till now.
BWA- What brands do you think are getting it right?
GP- People might automatically think Hypebeast, but from my point of view, people should buy and wear what they like. It doesn't seem to be a problem. As a sneaker lover, I hate people when they judge by what we are wearing. Not everyone would like to buy hype stuff, it depends what kind of stuff they want to wear and try. Also I dislike people who don't support their own local brands. People might have a stereotype for local brands, because of 'bad quality,' but not every local brand has bad quality.
BWA- What about a brand or brands that have a permanent place in your heart?
GP- Brands that have been in my life and stayed in my life over the last five years are Stussy, Nike, Adidas and more. First of all I follow Stussy because of the culture, in my knowledge Stussy is one of the big brands that supported the streetwear culture and one of the oldest brands in the scene. For me, I am buying into the culture and not the hype, it's all about love and peace. Not everything should be hype.
That is why I support them and respect them. Nike and Adidas are the biggest brands for sportswear and sneaker/trainers, so there is no reason to not support them. Nike brings out lots of hype stuff, for example Travis Scott AJ1, Off White collaboration and other limited collaborations, and they still have their uniqueness. For Adidas, it is one of my favourite sportswear brand because of the design and logo, one of favourite designs is ultra-boost because it is very comfortable and easy to wear, for Adidas original I love superstar and zx flux series but it's sad that there is not more zx flux, but recently lots of retro stuff is coming out, for example ozweego. Just for me I love to buy what I like and what I would wear. I don't really care about others.
BWA- Are there any brands that you've steered away from or lost trust in?
GP- A brand that I used to trust/buy and don't now would be Bape, 'cause of the material and also design wise and the price point. I prefer the days when Nigo was in Bape, but I still respect the brand though I would like to see old designs again. Beside Bape, recently I don't buy lots of Obey, who used to be one of my favourite brands but nowadays the design and quality is not as good as I expected, and I just feel bored with the design. Also Supreme, I used to buy lots of Supreme stuff resale or retail but nowadays it is hard to buy retail and too expensive to buy resale, so for now I stopped buying supreme unless I can purchase it in retail price.
BWA- How would you describe your relationship with social media?
GP- My relationship to Social Media is great. Mostly, I use social media to contact friends, search for information and good deals, and also for entertainment. The main Social media I use are Facebook, Instagram, Grailed, Kakaotalk and Google. Nowadays it is easy to search for products on social media and there are lots of good deals happening on the net. But for me, I prefer to purchase my product in person, I like to try on the product and see the fit because online it's very limited to look at all the details. So for me if I found a product I like online, I would try to find a similar look or style in an off-line store and try it on. But overall my relationship with social media is active. I also love to meet people face to face.
BWA- And what about your relationship with money?
GP- It's complicated because I need money to survive but it makes me want more. Money seems to be like a devil and angel, if I had less I would be happy living with it but when I have more than expected it feels like I need more and more. Money is one of the hardest things to control, it is easy to spend but hard to earn.
BWA- How would you describe your relationship with yourself?
GP- I try to be honest and true to myself. I would like to say I love myself, the first thing in mind is that if I don't love myself who will ever love me, and if I don't treat myself who will ever treat me? I just aim to be who I am and don't let others decide for me. If you love yourself it is also easy to love others, it's common sense that if you don't love yourself, how you could love others?
BWA- Imagine yourself as a big brand, how would you use your power to make a difference?
GP- I'd concentrate on price range, to deliver high quality products and sell it for a cheap price, because nowadays retail prices are so expensive and the resale prices are through the roof. If it were up to me, I would just wish that everyone could try my product and enjoy it and have easy access to it.
BWA- Is there anything you are personally doing in your life to make a difference?
GP- Looking after everyone, not only human, but also in nature. Before we look after anything/anyone we need to have an education. I think the most important thing is etiquette, from education we learn our basic etiquette towards human beings and living creatures. From the basics we know what is wrong what is right, and from there we learn how to treat human beings, it's about how you treat others. Basic stuff like this is easy to understand but it is hard to act upon. We need to treat others with respect and manners. I'm just praying that the world will be more open and wiser. Being peaceful is not easy but it is possible. Like the movie Kings Man, one the phrase: "Manners maketh man," that is the word I want to spread to the world. Never lose your smile, if you smile more, you will feel happier. People forget these things all the time because of how the world treats them. If you think positively, it gives you less stress. This is what I am doing for my life to make a difference, staying happy, positive and respecting all cultures. And also, do not follow money, follow your dreams and passions, do what you like, live how you like, but the base of that should be with respect and manners. Nobody can defeat people with manners.
BWA- How do you feel about the future?
GP- When I think about the future I feel hyped in every way. It's a thing that none of us know or can predict, so we can imagine as we want. I wish the world could show more love and respect. In terms of the fashion scene, I would say it will definitely be better and it won't get worse. Fashion and brand trends go 'round and 'round, more new things comes out and more young people will be appreciating the movement. I hope I can be there and witness the future.