Meet: Maysam, Habibi Skate Shop, Dubai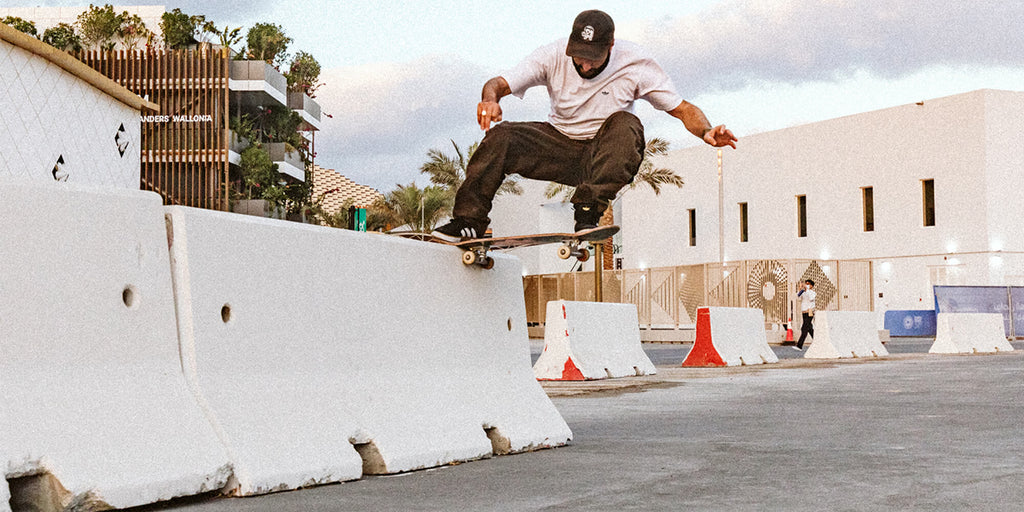 I had the pleasure of meeting Dubai skate legend Maysam online for a global project we did last year. We're still to meet in real life, but he's one of those people you feel like you've known your whole life anyway. He even sends me recipes of things to do with fava beans, but I digress…
Simply put, Maysam is someone who intuitively uses their power to make a difference, and does so with charm, intelligence and wit; his way with words makes me genuinely laugh out loud. An OG of the skate scene, he's been skating for 25 years and was in the process of setting up his online skate store, Habibi, when we first spoke.
The term 'Habibi' can mean 'for love, my dear', however many words in Arabic have various meanings and are used in various ways. 'Habibi' can also mean 'you're welcome', 'got you' and even 'don't worry about it'. As Maysam explains, "It kind of depends on how you deliver it, but in essence, it's always rooted in love," adding, "it's a lovely fucking word, which is why I think it's a great fit for how we do things at Habibi…."
Ruby: Before we chat about Habibi and how it's all going, what is it that you love about skating, mate?
Maysam: Simplified? I love skateboarding. Skateboarding has quite literally saved my life and I want to give back to it. I feel like the community and support have fallen off a little and now that I am older, capable and blessed with somewhat of a small network of decent people, I feel like I can make that happen. So really, it's my love for skateboarding, my love for the community and my want to provide them with what I experienced growing up and more.
Ruby: When we spoke to you, you were about to open Habibi. How's that gone?
Maysam: Since we launched, there's definitely a lot to be talking about in terms of the early days and the challenges and all that kind of stuff, but just to keep it a little bit short and sweet, I'll just tell you the highlights and where we are at right now.
Ruby: Sounds like a plan… When did you complete on Habibi?
Maysam: We completed year one on November 2022 and we haven't folded! We've got money in the bank, we've got products on our in-house shop shelves, and we're doing well, man.
Ruby: I love that, this is great news! And knowing that you like to use your power to make a difference, have you been able to carry on with that, too?
Maysam: Yeah, for sure… We've managed to donate boards and money to a skate NGO in Pakistan to help build the first skate park there, which is amazing. We've also sponsored a team of skateboarders, so now we have five people on the team. One of them, a girl named Maryah Tahboub just competed in the World Skate Olympic qualifications, which was very fucking cool.
Ruby: Very fucking cool… What else have you been up to [as if this wasn't enough]?
Maysam: We produced numerous board graphics, which is amazing. We also did a board graphic collaboration with an NGO in Jordan called 7hills. They predominantly focus on programmes that have to do with refugee children in Jordan and they use skateboarding as a vehicle to engage with them.
Ruby: Perfect, this is perfect. I love that you always spread the love, this is how skating should be… Have you been working with brands, too? I know we were originally talking to you for a big streetwear brand…
Maysam: Yeah, we have collaborated with Nike, adidas, and soon-to-be SVD [store] on events, so we have all this kind of like 'business milestone' bullshit. Some of the stuff we've done has being very special and some of it is about just skating in general. We've been able to hold over 20 events, being able to hire and pay skateboarders.
Ruby: Always important… Skaters don't always get paid, huh?
Maysam: Yeah, and now that the shop has a presence, we've been able to organise a skate drive to donate products and send used products out to Lebanon.
Ruby: I love it, I love it, I love it… Knowing you, you haven't stopped there, though…
Maysam: Well, with the board brand that I started, I've been able to help two skaters have their own skate shops in Egypt [we've included the links at the end]. Just by giving them boards at credit and letting them generate some cash flow. I've also introduced them to people that are cool in the industry so they can secure products for their scene and take the power away from the suits that have no idea how to be in the skating business. So yeah, really, really cool shit.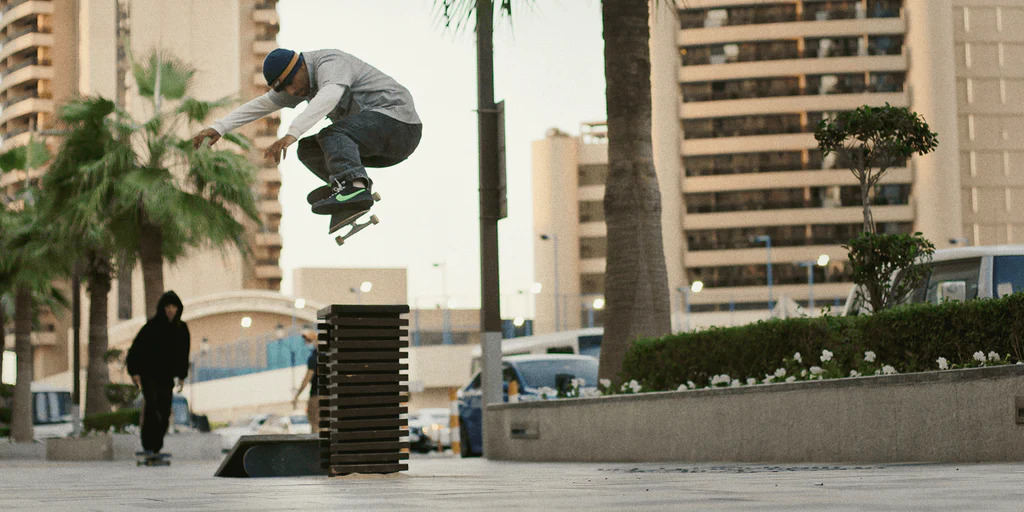 Ruby: How does it all feel? Does it feel real yet?
Maysam: In regards to, let's say, the ethereal or how it feels, it feels very fucking cool that we've been able to build something that can resonate with people. I wish you could see what the street skate scene is like now if you go to a skate park. You'll see everyone using our products, using our boards. First of all, because they're really good quality and fairly priced, but, second of all, because they really fuck with it. You know, the tone of voice of who we are is authentic, people feel seen, people feel represented, and people are very fucking proud.
Ruby: I feel proud just hearing that...
Maysam: Thanks dude. Yeah, and for the past two and a half weeks, the Olympic qualifiers have been happening here and a lot of the professionals have a Habibi sticker on their boards, and these are professionals that I did not give stickers to. They got 'em from kids who proudly shared stickers from their local skate shop and said, "Check this out" and whatnot. So very cool.
Ruby: Really fucking cool…
Ruby: It's not always easy to work with big corporations, right? Especially in the skate world, I find…
Maysam: Interestingly, the Olympic skateboard qualifier organisers or hostesses or whatever they're called are a huge property developer. My friend and I were working quite closely with them, doing events every weekend for the community. Then I decided to part ways because the direction over there started to feel misaligned with our values and just, I don't know, just too corporate and that's not what we're all about. 
Ruby: I get that…
Maysam: The reason why I'm saying this to you is because, despite the work and effort I put in to the skate programme and building the relationship, they chose to go the "pay to be there" route which ultimately led to the non-skater mall shop having their advertising there. It's a shame because that would have been the perfect venue to have a space where we can welcome all the visiting competitors, showcase our scene, history, products and shoot the shit with everyone. Give advice on where to eat, where to skate, how to get around, skate shit y'know?
Ruby: What a wasted opportunity.
Maysam: Totally! It wasn't all bad though. I still got to do all those things anyways, just not at an official capacity. It was rough though, driving 50min each way to hand deliver a product to someone in need, but hey, these skaters broke shit and needed replacements asap to compete. I did my best to keep a steady supply of products coming in and turned my car in to a makeshift skate-shop. Super DIY, but it got the job done. It was hella disruptive on me, impractical, but necessary. I did my part. That's what you get with skater owned. Skaters in the World Skate association recognised that and spread the word.
Ruby: When we first reached out for this follow-up, you were meeting the Olympic media team, right?
Maysam: Yeah, two days ago, the Olympic media team came over and did a story on the Habibi Skate Shop, myself and the scene. It's a short little video so you can't cover loads but I got to showcase our local skate spots and talk about how beautiful our skate scene is and what the shop is about. I put them in touch with my friend, Evan Collisson, who's been a partner in the skate documentation effort. Evan focused more on photography so I got him involved with it so we can showcase the amazing photos from his archives. It felt great to have him be a part of it.
Ruby: This must all feel amazing and so well deserved…
Maysam: Yeah, dude, it feels positive, it feels really positive. Life is still very hard, though. I'm still broke, I can't afford to go to the dentist, and I can't afford to do things I used to be able to do - unable to do things without even thinking of the consequence financially. So it's definitely hard leaving that 9-5 job and entering into the realm of broke-dom, but despite those hardships, I feel like a man on a mission. I feel a very strong direction and value system with how I'm doing things, events that we're choosing, and not to get involved with or brands that were turning away before… Oh, also our brand now is in Egypt as well, people are really big fans over in Egypt so I don't know, man, things feel good.
Ruby: I have no doubt your future is beautiful, mate.
Maysam: Yeah, I feel empowered, I feel hopeful. I still have a lot of fucking things to be angry about because enemies of skateboarding are still around somehow, but I think we will eventually get there. It's almost easier to be a little quieter and observe the things that are wrong when you're in a position where you can do something about it. There has been a lot more that's happened, but I think that those are the highlights, and it's only been a fucking year.
Other links:
https://habibiskateshop.com/
https://oxadaskateshop.com/
https://amuletskateshop.com/
Note: We donated to Salad Days, please feel free to support, donate and shout about any of the great things Maysam has spoken about with us. Supporting these scenes is important, heroes huh? Thank you, thank you, thank you.
Photo Credit: Header image Altamash Urooj Santana / Maysam Faraj