What We Can All Learn From Schitt's Creek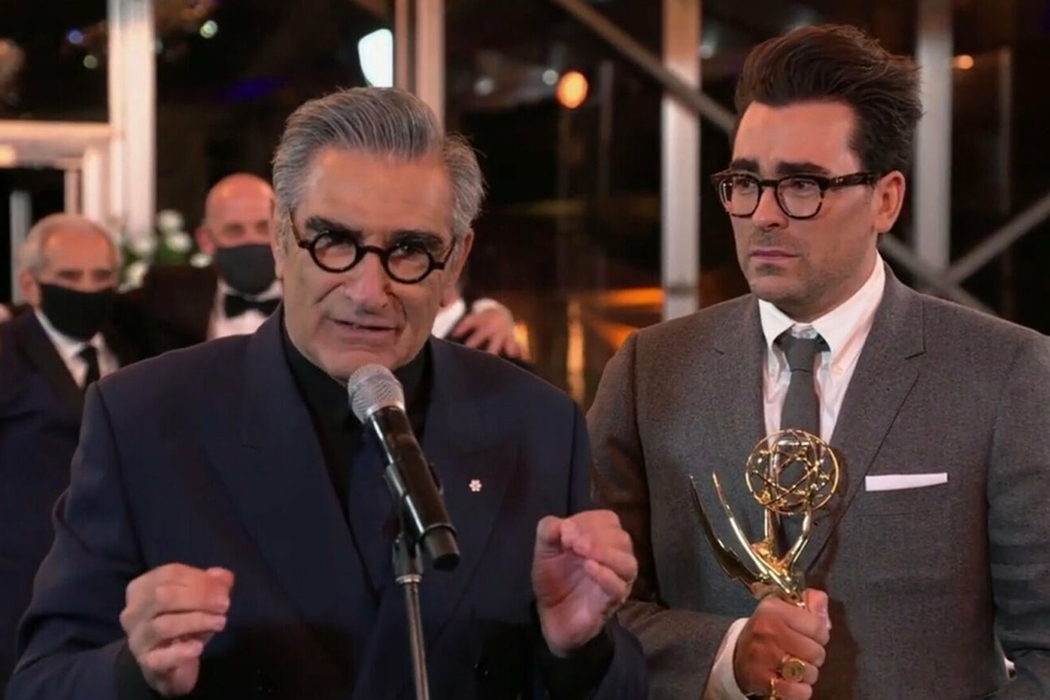 On Sunday night, Schitt's Creek [finally] won an incredible amount of Emmy's [9] for their final season - including a historic first where they won the top four awards: best actor, actress, supporting actor and supporting actress. A real triumph for one of the most seminal and beautiful pieces of TV we at PSEUDO have seen for quite some time. [Ruby even bought a Schitt's Creek tee, no joke.]
The show follows a family -- fallen from riches -- to a small town called Schitt's Creek. It's wittily written, wonderfully cast and perfectly timed in terms of where we're at - or rather, had got stuck - in terms of queer culture and traditional portrayals of it. For many, one of the most emotional and powerful elements of the show is that it shines a light on stories that are sometimes over-dramatised and/or lazily depicted, essentially the depiction of queer love and relationships.
From the onset of the show, Daniel Levy [actor, writer, co-creator and son of co-director, Eugene Levy] wanted there to be no homophobia or bigotry on the show. Because of this, it allowed his character, David, to live in a family and a town where his queerness needed to be neither explained nor discussed. Isn't that a fucking joy? Every character welcomed [not just tolerated] David's queerness and in turn allowed a character development outside of the traditional 'queer trauma' and 'shame' you see on many TV shows and films. You never, ever see the character interrogated about his identity or sexuality within Schitt's Creek - and that is something to salute [and emulate, come to think of it]. Essentially, it's part of who he is, and it's never debated.
One of the only scenes where David's queerness is openly spoken about is where he uses a wine/label metaphor to explain his pansexuality: 'I like the wine and not the label - does that make sense?'
In the behind the scenes documentary on Netflix [watch it, it sums everything up] we hear that a fan wrote to Daniel Levy to explain that they used this exact metaphor with their family when they came out. It's an emotional part of the BTS because it highlights the importance of seeing yourself represented on TV. Importantly, most queer people do not seem themselves reflected properly; instead, they see themselves parodied, appropriated or completely misunderstood/marginalised. David, in this one-minute long scene, gave people a tool and the strength to explain their identity without the usual prejudice or judgment or even invisibility. At PSEUDO we call this 'the tools to talk', one of our key commandments. These small, yet hugely important, moments have allowed Schitt's Creek to be that safe space that people have craved for so long. As Daniel noted in his Backstage of The Emmy's interview: "That is the gift, to be perfectly honest, to know that you've done something that has not only brought laughs to people but has also changed conversations in people's homes and changed people's minds and changed people's hearts." - Daniel Levy, Backstage at the Emmy's 2020.
Now, wouldn't it be amazing if a brand could do that?
Another key part of the documentary is where Daniel Levy is handed a letter from a Facebook group of mothers who have queer children. It reads: "Your commitment to representing love and tolerance in your show is so important to families like ours. Your willingness to explore, inform and educate about LGBT+ people and their relationships in an entertaining but respectful and positive manner sets a tone that is often missing."
This is something that everyone can learn from: 'to explore, inform and educate', but do so with empathy. That's what brands should be doing. Not just sticking a rainbow on a product or service and making a short statement about equality and diversity. It's about actually investing time and resources, not just money, to truly understand the queer lives you want to appeal to and how to make their lives and experiences a real part of your brand's offerings. Speaking through their lens, not just putting a lens on them. Again, in terms of our "commandments" this is about: being appropriate, never appropriating, having manners and being mindful, being interested and interesting and - reflecting their mindset. In so many ways, Schitt's Creek ticks our brand commandment boxes.
Brands need to be empathetic in all they do in this realm, wholly understanding the feelings and experiences of the queer community. And, if you don't know, ask. Ask us. Ask anyone. Just ask. Having empathy will enable you to be a genuine ally here and that's powerful. It's always easy to activate an LGBTQ+ initiative, but it's hard to keep it continuous if you're not doing the hard work to really understand what you could and should be doing moving forward.
As a community, we're tired of being spoken at rather than spoken to. A lot of what works and what sticks isn't what is seen or put into a press release. It's about what is happening behind the scenes. Just like in Schitt's Creek: nothing is shouted about, it's just intrinsic to everything they do. Those important, strategic decisions were made at the very beginning; they weren't reactive; they weren't following a 'trend' or a 'money opportunity'. It was a fundamental part of the show that is loved and will continue to be loved for many years to come. I've watched it around six times already and still laugh at Moira's wig choices [she's a whole other blog post], cry at Patrick singing Tina Turner to David, and feel sheer pride when Stevie sings at the Creek's performance of Cabaret. This show will stand the test of time because of Daniel Levy's iconic decisions. Iconic is good, iconic is timeless, iconic is never a trend.
Having a show which openly portrays queer love and experiences without question is not only eye-opening but, now more than ever, it is seriously needed. We currently live in a world where everyone is so scared of being called out or treading on eggshells that they tend to revert to stereotypes and tropes, which is damaging to the community they want to show they accept. A show like Schitt's Creek subtly but powerfully challenges that narrative. Daniel Levy and the whole cast and team of Schitt's Creek have created a new precedent of queer television and storytelling. A precedent where queer stories get to be told unapologetically and unquestionably. Schitt's Creek may only be a fictional town, but it's one that we can hope to be replicated the world over.
Now, go watch. There's a lot to learn in that Creek with its commandments.